Below are some of the CD's that Hooch has recorded on.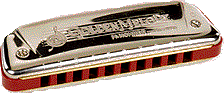 Hooch only uses Hohner™ harmonicas.

Discography
New Release "Fly Right"

Tracks

1. If Every Day Were Yesterday
2. Overtime (1.1 MB MP3 sample)
3. I'm Goin' Home (1.8 MB MP3 sample)
4. Why Me
5. Woke Up This Morning
6. Can't Keep It Up
7. Had You Told It Like It Was
8. Little Bitty Pretty/Rockin' Robin
9. Take It Back (1.4 MB MP3 sample)
10. Fly Right (1.2 MB MP3 sample)
11. Santa's Got A Blues Band (.9 MB MP3 sample)

1. Lonesome Is As LoneSome Gets

Other CD's

Toby Walker – Plays Well With Others
Son Lewis – Last Train Smokin'
Moose & the Bulletproof Blues Band - Movin' On
Walt Whitney – Howlin' At The Moon
Jim Moran & the Boulevard Blues Band - Slither
Gary Sellers - Young Man With The Blues
Tommy "Keys" Lippis - Two Left Hands
Long Island Christmas Compilation
Blues New York Compilation

Press Reviews

"Fly Right" Hooch & The Bluesicians CD Review
Dr. Blues - Long Island Blues Society

A lean, mean Hooch flew onto the LIBTC stage, snagging a trip to Memphis, where he will show the world just what's what with LI blues. Corresponding to that triumph is his new disk, "Fly Right", which holds forth with pure Windy City Blues power energized by Paolucci's taut vocals, searing slide, coruscating wit, and overwhelmingly lyrical harp. His regular band and a fantastic roster of LI greats supports a roundup of 11 cuts. There are 6 originals and wildly righteous covers of BB, Albert King, Little Charlie, Sir Musselwhite and Aaron Carter. Hooch's vocals have enough Estrin sneer to burn 'em up and the groove of the spool is fiery hot. The unmistakable talents of LI legend land including Sam Taylor, Kerry Kearney, Pete Kiernan, Danny Kean, Tony Campo, and Tommy Keys are found supporting a Chicago get down the likes of which are rarely heard on this island. For Hooch, this disk has been a catharsis, helping to exorcise demons and thus, the power and impact of this disk stem from a healing by the Blues. The emotional intensity, the instrumental clarity and the silky smooth production are all labors of love that shout out "Fly Right." Well, fly it right, bluesman and carry it to Memphis and beyond.
---